West Palm Beach Brick Pavers
Brick pavers are arguably the best tool to elevate your home's curb appeal or business establishment's façade. These are trusted materials for an easy way of beautifying and improving the value of your home. You only have to choose the perfect installer to do the job for you.
South Florida Paving Company is a reliable West Palm Beach brick pavers company with many years of experience and proven expertise in brick paving installation. We provide our clients with the finest service possible, working with trained and certified professionals for your project. Our team delivers competence in residential and commercial installations of brick pavers for driveways, walkways, pools, patios, and more.
Our skilled team is always ready to start planning your project and schedule an immediate repair or convenient installation, whether you need a few replacement blocks or a new paved patio. Your project can be done fast and efficiently with our expert craftsmen, affordable prices, and solid partnerships with major manufacturers.
Call South Florida Paving Company at (561) 320-0923 for your Free Consultation with a West Palm Beach Brick Pavers expert!
Complete Brick Paver Services
Brick pavers are almost always used in hardscaping projects. With our high-quality materials, brilliant designers, and skilled installers, we are confident that you will find our legacy of paver installation, combined with our utmost precision, to be exceptional.
These components are ideal for a variety of applications, including:
Driveways
Any visitor to your property will first notice your driveway the moment they arrive. You need our properly installed brick paver driveway that can make your home get a classy first impression. We can design and install a paver driveway in the style and pattern of your choice, ensuring durability and functionality. Installing a breathtaking brick paver driveway is the key to creating captivating curb appeal and helping boost your home's beautiful scenery.
Patios
Installing brick pavers is an easy and stylish way to keep your patio looking straight out of magazines. Wood, concrete, or other materials may necessitate additional maintenance, so bricks are a good choice. You don't have to worry about cracking or discoloration since brick pavers add a unique finish to your patio. This low-cost option is ideal for homeowners who want the beauty and long-lasting durability of an outdoor patio.
Brick Paver Walkways
The natural color of brick can be used to establish a unique pathway to welcome visitors to your home and create a more interesting exterior appeal. Incorporating a brick paver walkway to your front or back yard is a great way to highlight your home and landscape design. Our team has a great variety of paver colors and styles to ensure you get the impact you want.
Pool Decks & Coping
Every pool area requires some kind of deck, and it's a useful feature that can be designed however you want. Fixing an elegant and well-planned pool deck on your residence is an excellent way to build an amusement space for you, your family, and your friends to enjoy.
Optimizing your new pool deck with brick pavers, or redecorating your existing pool deck with brick paver tiles that are an inch thicker, can effortlessly customize the style and feel of your pool deck. Your new pool decks can have a full-size coping paver, while your existing pool deck can be remodeled to have a bullnose coping.
For other vicinities of your property that you find a need for a brick paver installation, you can call our experts to discuss your chosen project. We can visit the site to get accurate details and measurements of your area.
Customized Brick Paver Installation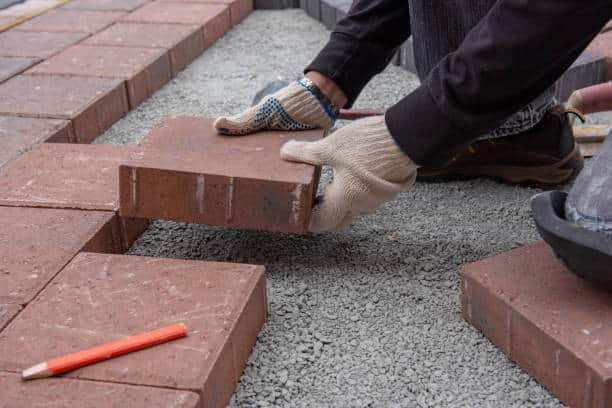 Our customer base is strong proof of our dedication to doing our job. Brick pavers are the most unfailing outdoor paving material, whether for commercial pavement or residential driveways. Even if you only need a few blocks for repair or a whole new paved patio, all professional staff at South Florida Paving Company are equipped to design your project and install your brick pavers in time.
As your full-service West Palm Beach brick pavers company, we also do repair, modification, maintenance, and other custom projects. Say goodbye to your current structure and allow us to install a beautiful and impressive new pavement that best suits your home style and personal preference. Rest assured, your project will be developed quickly and professionally with reasonable prices and applauded quality.
Individual brick pavers can be raised or modified without leaving a permanent mark. Brick pavers, either made of concrete or clay, can be arranged in a variety of patterns, such as herringbone and stretcher bond. Our team accomplished numerous brick pavers projects, like new driveways, patios, and walkways that equally improve your outdoor space and make a much easier way to preserve it over time.
Call South Florida Paving Company at (561) 320-0923 for your Free Consultation with a West Palm Beach Brick Paver expert!
Trusted West Palm Beach Brick Paver Installers
For years and counting, we have marketed brick pavers and supplied brick paving repair and installation services to various clients. South Florida Paving Company is an established and reliable brick pavers company that provides homeowners and commercial property managers with the best paver alternatives in town.
We work with all types of paver repairs, including the replacement and restructuring of paving units on driveways, walkways, pathways, decks, and patios. Every project we work on shows how our company understands the significance of having well-installed and beautifully designed outdoor areas.
So if you want your outdoor living space to be relaxing, sophisticated, and engineered to last for a long time, call South Florida Paving Company. We have partnered with top-quality paver suppliers and trained each member of our team to meticulously finish every job with little to no inconvenience at all.
Let's Talk – Free Consultation

When it comes to designing and installing West Palm Beach brick pavers, we have the best quality of materials, reliable equipment, expert staff, and top-tier products. We only offer attractive and durable finishes that are cost-effective and highly functional.
We deliver clean and efficient services, leaving nothing but satisfaction to all our clients. Upon ringing our phone, your journey to a great brick paver installation experience starts right away!
Call South Florida Paving Company at (561) 320-0923 for your Free Consultation with a West Palm Beach Brick Paver expert!