Lake Worth Concrete Pavers
Concrete pavers, also known as paving stones or cement paving, are a convenient option for outdoor flooring that creates an attractive look that will last for a long time. Pavers, like tiles, are manufactured in various shapes, sizes, and colors that can be installed in different laying patterns.
At South Florida Paving Company, we make sure that we'll provide you with top-quality Lake Worth concrete pavers and complete installation service, topped off with a reasonable price and efficient working process. Our finished product, service quality, and dedication to customer satisfaction are fully unparalleled—providing the highest quality paver installation service to home and business owners in Lake Worth and the nearby areas.
And if you need a concrete paver repair, trust our team in restoring cracked or damaged concrete. Whether it is an extensive or simple project that only requires the replacement of a couple of pavers, our professional concrete paver installation team will be able to handle it excellently.
From acquiring a permit and designing your dream outdoor living space to installing quality concrete pavers, your entire project will be handled efficiently by our skilled team.
Call South Florida Paving Company at (561) 320-0923 for your Free Consultation with a Lake Worth Concrete Hunting expert!
Concrete Pavers for Every Outdoor Space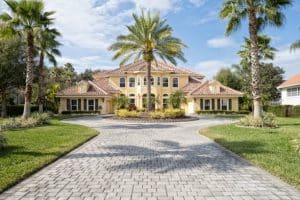 Concrete pavers are increasingly being used in commercial and residential construction projects. They come in a variety of textures and colors and can easily be used to establish a decorative patterned surface. South Florida Paving Company has successfully provided Lake Worth concrete pavers for different projects.
Among the common applications for these pavers are:
Walkways

Patios

Driveways

Pool decks

Stonewalls

Firepits

Around fountains

Entrance to corporate offices

Playgrounds

Streets

Airport runways
Regardless of what type of project you want to work on or how big the coverage is, South Florida Paving Company can cater to your needs in the most time-efficient and cost-effective way possible. We will take note of all the details that you want to include in your custom concrete pavers and plan the most appropriate way of completing the project—securing both the aesthetics and durability of your outdoor living space.
Complete Concrete Paver Styles
Pavers—with all their variety of shapes and sizes—can be detailed to match almost any architectural style and turn a dull outdoor space into an attractive and long-lasting extension of your personality.
They differ a lot depending on the place of origin, so the style of your choice must also complement what's available and suitable in your area. Fortunately, South Florida Paving Company offers a wide array of styles and designs that you can choose to better match your home or property architecture.
These are the most common styles of Lake Worth concrete pavers that you may choose:
Cold asphalt – a mixture of bitumen and finely crushed gravel or stone that has a unique, tough, and waterproof surface. It is most commonly used to resurface an existing drive or path.
Roman – a tumbled finish to soften the edges and create the classic look of hand-sculpted stone. The natural blending of earth tone colors into the landscape provides a durable concrete paver that gracefully gives off an exceptional quality and elegance.
Stone chipping type – can either be used as a decorative covering on cold asphalt or as a surface covering on its own. We can install it to resurface an existing drive or create a new path. It is inexpensive and simple to install. Stone chipping is best suited for light traffic. This design works well as a concrete paver patio, particularly in gardens.
Classic look – this can be an octagon combined with a square. Cobble is one of the most dynamic paver shapes due to its interlocking properties. Because of its subtle earth tones and color blends, this kind of pavers is among the most chosen for paving installations.
Gravel type – a loosely laid mixture of coarse sand and small stones on a hard surface. It may be unsuitable for a driveway, but it is ideal for a concrete paver patio. This style necessitates regular raking or rolling, so you need professional assistance in making it cleaner and maintained. It is available in white or a variety of brown shades.
Our team can show you other styles apart from the ones mentioned. You can also give us your preferred style, and we can find ways to achieve them. Whichever space you want, with our expertise in concrete paver design and style, we can deliver premium products and services.
Call South Florida Paving Company at (561) 320-0923 for your Free Consultation with a Lake Worth Concrete Hunting expert!
Why Hire a Professional Concrete Paver Installer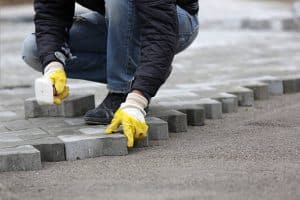 Concrete pavers are relatively easy to install, remove, and replace. So if you're a homeowner, you're maybe considering doing the installation yourself. However, if you want a smooth-running project that will take the least amount of time without compromising the beauty and durability of your space, working with a professional concrete paver installation team is worthwhile.
With South Florida Paving Company, you can ensure that your project will be finished on time and within your budget. Our professional installers have the skills, knowledge, and experience to properly prepare your site, which is 90% of the installation job and will determine how long your hardscaping project will last.
We know how to calculate how much base material is needed, the appropriate size and quantity of materials, and the amount of labor necessary to complete the project without breaking your budget.
Planning, designing, excavation, base-level installation and compacting, installation of geothermal textile to prevent weeds, installation of edge restraints, setting, compacting and leveling of sand, installation of the pavers, and finishing the surface—all these we can do with minor to no errors at all.
We also have all the proper tools for an efficient work process. And if an issue does arise, however unlikely, we're more than capable of providing immediate solutions.
Call South Florida Paving Company at (561) 320-0923 for your Free Consultation with a Lake Worth Concrete Hunting expert!
Experienced Lake Worth Concrete Paver Company
South Florida Paving Company is a comprehensive concrete paver contracting company that offers many years of the collective experience of our professional craftsmen. Our team of expert installers provides high-quality paving services, such as installing driveways, retaining walls, pool decks, walkways, and patios. We have worked on both commercial and residential tasks and can manage to complete all sizes of concrete paving projects.
During visits, our designers can suggest paver styles that complement your surrounding environment. To add interest and appeal to large areas, two colors of pavers can be combined. Pavers are also available in a variety of blended colors to achieve a more elegant and remarkable view.
Regardless of the details of your project, however, you can be confident that your project is in capable hands with South Florida Paving Company. We strictly adhere to all safety regulations, ensuring no accidents or mistakes that could endanger you, your property, or our employees. We are completely dedicated to making a proper schedule, direct interaction with our customers, and cleaning up the space after the process.
Let's Talk – Free Consultation
If concrete is your preferred paving material, our knowledgeable staff can assist you.

For new concrete paver installation, we can gladly assist you in planning an area for your new driveway, patio, sidewalk, firepit, and many more. We can also create a new design for the replacement of your existing concrete pavers, allowing your space to become more attractive and durable.
So if you want top-quality Lake Worth concrete pavers that will be installed meticulously and efficiently, South Florida Paving Company has the best team to meet all of your needs.
Call South Florida Paving Company at (561) 320-0923 for your Free Consultation with a Lake Worth Concrete Paving expert!