Jupiter Paver Installation
Hardscaping requires premium-quality pavers and expert installers to get the most satisfactory result. Fortunately, all these and a budget-friendly custom installation plan can easily be acquired at South Florida Paving Company.
Numerous residential and commercial properties have increased their curb appeal and value through our Jupiter paver installation services. We specialize in travertine and concrete pavers but are more than capable of using other paving materials as well.
With the expertise of our in-house designers and certified paver installers, we can build any paver amenities that you have in mind. From your walkway to your pool deck, everything can look as sophisticated as you want with our wide range of paver design options.
Ready to plan a relaxing and attractive outdoor living space? Talk to our paver installation experts today!
Call South Florida Paving Company at (561) 320-0923 for your Free Consultation with a Jupiter Paver Installation expert!
Complete Paver Installation Services
South Florida Paving Company is a licensed, bonded, and insured paver installation company that caters to all kinds of hardscaping projects for residential and commercial properties. There is no job that is too big or too small for our skilled crew, always guaranteeing a paving plan that suits your specific needs and wants.
Included in our Jupiter paver installation services are:
Patio
Create an open or semi-enclosed patio that you can utilize for entertaining guests or enjoying outdoor time with your family. We can choose a style and layout of pavers that make your patio more suitable to your personal style, making the space more relaxing for you.
Pool Decks
Highlight and make your pool area more inviting with a textured, decorative pool deck. We'll make sure that yours will be safe and slip-resistant, allowing you to enjoy a pool party complete with sunbathing and BBQ with the whole family.
Driveways
Customizing your driveway with our interlocking pavers can greatly improve the curb appeal of your home or commercial building. This will set your home apart from the neighborhood and make the entrance to your business more inviting.
Retaining Walls
We can install decorative retaining walls for a more dynamic landscape. These walls are also helpful to avoid erosion and drainage problems for your sloped terrain.
Outdoor Fireplaces and Fire Pits
If an outdoor fireplace is too big for your yard and will overwhelm the overall look of your landscape, a well-designed fire pit can be installed by our team and let you enjoy cooler nights with a good view of your yard.
Sidewalks and walkways
Aside from providing you and your guests with a safe place to walk on, even on rainy or snowy days, our paver installation service will give you attractive sidewalks and walkways that will increase the value of your home should you decide to sell it.
Outdoor Kitchens
A full outdoor kitchen is a perfect place for special bonding moments. Our paver installation team can customize its concept so your kitchen will match your specific lifestyle needs and will also be durable enough to last a long time under varying weather.
Water Features
We can also install natural-looking pavers to incorporate water features in your outdoor space, such as waterfalls, ponds, and fountains.
Aside from the abovementioned amenities, South Florida Paving Company caters to all other projects that involve pavers. Whether you want us to do a different project than what we mentioned or maintenance or repair work, we have the tools and skills to complete the job with the least cost and time required.
Wide Range of Paving Materials
One more benefit of working with South Florida Paving Company is having access to high-grade pavers that are not only durable but manufactured to appeal to all kinds of styles as well. Regardless of the theme or architecture of your home and commercial building, we have pavers that will best match the look that you're going after.
Depending on your preferred style, budget, type of hardscaping project, and structural needs, our Jupiter paver installation team can help you choose among our wide range of material options. These include:
Travertine Pavers

Concrete Pavers

Clay Brick Pavers

Flagstone Pavers

Rubber Pavers

Marble Pavers

Porcelain Pavers

Ferrock and Ashcrete Paver

Greencrete Paver

Plastic Pavers

Cobblestone Pavers

Sand Pavers

Bluestone Pavers

Aircrete Pavers

Mulch Pavers

Mycelium Pavers

Hempcrete Pavers

Asphalt Paving

Resin Pavers

Timber Pavers
Our long-standing partnership with trusted paver manufacturers guarantees that the products we'll use on your hardscape will have the best durability and beauty for your specific budget range.
And don't worry if you're still at a loss on what particular material to choose. You can browse through our portfolio to see our previous projects for inspiration. Or you can tell us the important factors you're considering, and we can suggest the best possible choices.
Call South Florida Paving Company at (561) 320-0923 for your Free Consultation with a Jupiter Paver Installation expert!
Reliable Jupiter Paver Installation Company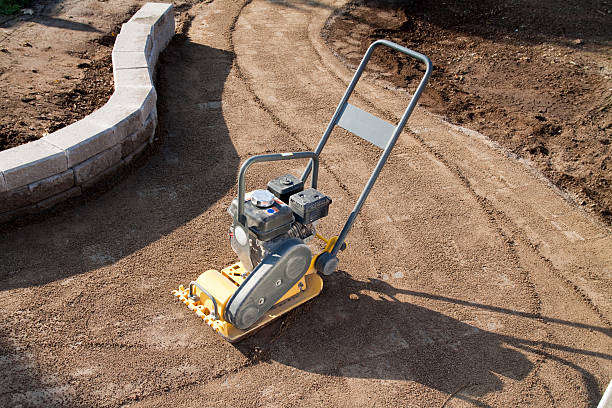 For an outdoor space that is inviting and relaxing, invest in high-quality paver installation and have a durable, gorgeous hardscape that complements your landscape and architecture. South Florida Paving Company is one of the best teams to work with for this!
Years of training and experience allow us to determine the most appropriate paving solutions for any type and complexity of a project. We always create a meticulous plan that addresses all the needs of our clients, ensuring that they get a long-lasting aesthetical outdoor space without breaking their budget.
Our equipment is complete with all the necessary tools for efficient site preparation and an error-free installation process. This avoids any unplanned downtime and saves you both time and money. And if you still don't need a new structure but repair work on your existing pavers instead, we can also do the job in a quick yet effective manner.
Let's Talk – Free Consultation
If you want a custom Jupiter paver installation service that handles everything from permit acquisition to paver sealing and maintenance, South Florida Paving Company is one of the most trusted companies you can work with.

We will conceptualize the best hardscape plan that will make your property more attractive and give it a higher value. Every detail will not only be engineered for a classy, relaxing look but also for durability—making your investment truly worthwhile.
Ready to get started? Begin planning your paver installation project with our team now!
Call South Florida Paving Company at (561) 320-0923 for your Free Consultation with a Jupiter Paver Installation expert!