Palm Beach Patio Pavers
For many Americans, spending time with the family on the patio is an important part of their weekend and holiday. Almost every home has a patio of different dimensions, and people take extra care in designing it, especially when it comes to its flooring. Out of all the available materials that can be used for your patios, patio pavers are the preferred options for flooring and decoration.
South Florida Paving Company offers sturdy and high-quality Palm Beach patio pavers for your patio at home or in your commercial facility. Our team works hand-in-hand with clients like you in order to create a beautiful patio that matches your ideal image in mind and install the right patio pavers that will make it a reality. We have a talented team of designers and installers ready to assist, as well as subcontractors who can help us with large projects. We also use high-quality patio pavers, which are guaranteed to last for a long time, fit your space, and are easy to repair and maintain.
All the projects we do are personalized to match each client's needs and wants, and each project comes with a one-year workmanship guarantee to fix any damage that appears on our work. You can also count on our paving company to help you with your other paving projects and custom ones whenever and wherever you need them.
Call South Florida Paving Company at (561) 320-0923 for your Free Consultation with a Palm Beach Patio Pavers expert!
What are Patio Pavers?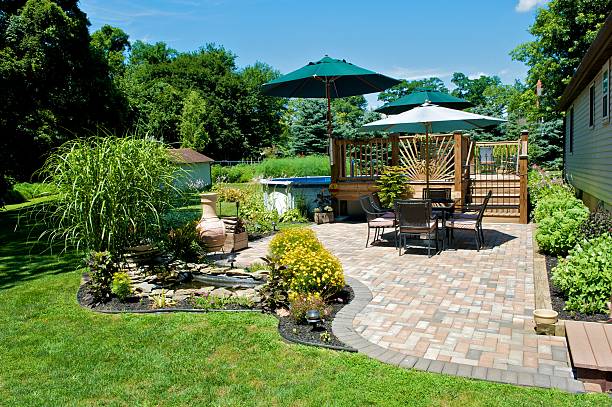 Patio pavers are pavers specifically used for outdoor patio decks. They are often made with either one of three types of materials known to be very durable, attractive, and safe to use regardless of the weather conditions.
The three types of materials used for patio pavers include:
Concrete pavers

Brick or clay pavers

Stone or natural stone pavers
Each one of these pavers is available in various styles, shapes, and colors to match the property that will use it. They also offer various benefits, such as anti-slip and insulating properties that will protect its users at any given time they need to use the patio.
Installation Patterns for Patio Pavers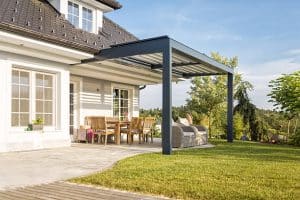 Since patios are extensions to one's home, their foundation and flooring should be stable and match the style of the house. There are several types of installation patterns for patio pavers, and some of them are as follows:
Herringbone – This pattern is the most popular and formal installation pattern used for pavers. It has a zigzag design that can hide irregular areas of the patio and hold heavy weight without problems.

Running bond – This pattern is very simple but works perfectly for small patios. Pavers are laid at a specific angle to create a curved pattern.

Basketweave – This pattern is ideal for casual patios and combined with another installation pattern. Pavers can either be laid vertically or horizontally depending on the client's preferences.

Circle design – For patios with a classic touch, circle design is used as the installation pattern. However, it can be very difficult to install due to its curves and the circle design on the pavers themselves.

Random design – This installation design is used to combine four different sized patio pavers in one design. The resulting image is a very striking design that will help the space stand out.
South Florida Paving Company can help you look at all these installation patterns and see which one works well for your patios. We will speak to our Palm Beach patio pavers team and our suppliers to get the right type of patio pavers to match your preferred installation style once you have determined your best bet. We can also do custom designs to combine various installation patterns to the style you want.
Call South Florida Paving Company at (561) 320-0923 for your Free Consultation with a Palm Beach Patio Pavers expert!
Why Choose Patio Pavers
If you want your patios to last for a long time, patio pavers are better than wood or concrete. Wood floorings are susceptible to rotting and water damage, especially if your location constantly faces heavy rain or snow. While concrete is more durable, it can get hot during the summer months and be dangerous to tread on during this time. Concrete also has a rough surface that can be a danger for kids, especially if they trip on it, as well as be prone to damage due to ground movement and temperature changes.
Patio pavers are built to be durable and made with the finest materials that can withstand the elements and drastic temperature changes. They are also made to withstand stress from ground movement, and should they break; they are very easy to repair and install. Pavers are also able to drain water easily and nourish the ground beneath it compared to concrete slabs that collect water which can run into storm drains.
Call South Florida Paving Company at (561) 320-0923 for your Free Consultation with a Palm Beach Patio Pavers expert!
Full-Service Paving Company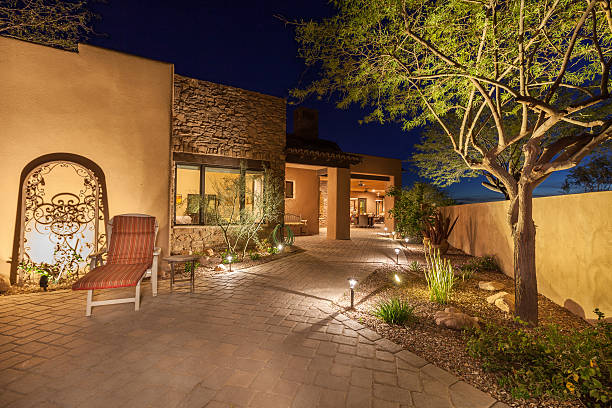 Whether you have a small patio or a large patio that needs to be designed to the nines, we have the Palm Beach patio pavers and team ready to assist.
At South Florida Paving Company, we are dedicated to helping our clients – both residential and commercial – achieve their ideal spaces with our lawn care, landscaping, and hardscaping services. We have been in the industry for years now, and we continually strive to improve our techniques to deliver amazing spaces for our clients throughout Palm Beach. All of the work we accept and complete is personalized to match the space of our clients. If you want to work with us, we have an in-house team of contractors and designers ready to visit your property for evaluation and get the project started. For large projects or if we have a full load, we are supported by great subcontractors based in Palm Beach to get your project rolling. We use only the best paver products for our projects and even customize them to suit our client's preferences and ideas.
To get started with our services, you can reach out to our team through our free consultation service, and we will have a team on standby to guide you. They will do a site visit to determine what is needed for the project, recommend the best paver options and installation patterns, and provide you with an affordable quote for our services. Once approved, our team will get to work on installing your pavers and deliver them to you on time. All our work is covered by a one-year workmanship warranty that can be availed of should there be problems with the leveling, settling, or quality of the pavers we used for the project.
Free Consultation Today

Give your home a patio that you can truly enjoy and your visitors would admire through our patio pavers. At South Florida Paving Company, you don't have to worry about anything as our team can handle every aspect of the patio paving project, from preparing the space for the pavings, getting the permits to install them to installation proper and maintenance. We look forward to hearing your requests and giving you the patio you have been dreaming of.
Call South Florida Paving Company at (561) 320-0923 for your Free Consultation with a Palm Beach Patio Paving expert!