Weston Interlocking Pavers
Your outdoor space, whether for residential or commercial properties, should be equally cared for as much as your interior. It is best adorned with styles that match your building architecture, personal preference, and lifestyle necessities.
So for a relaxing and classy outdoor living space, you'd want to invest in durable and aesthetical hardscaping materials. South Florida Paving Company can provide you with Weston interlocking pavers that will undoubtedly elevate your curb appeal without requiring intensive maintenance and costly replacement.
Our in-house designers and paver installers are all trained, certified, and highly experienced in dealing with any project of varying scopes and complexities. We have all the necessary tools and skills to demolish your entire pavement for a full renovation, maintain or replace a couple or more pavers, and create a completely new outdoor area from your bare space.
From acquiring the construction permit and designing the laying patterns to the actual customized installation of your interlocking pavers, our team guarantees an efficient and budget-friendly service.
Call South Florida Paving Company at (561) 320-0923 for your Free Consultation with a Weston Interlocking Pavers expert!
Why Choose Interlocking Pavers?
Compared to poured concrete and asphalt paving, interlocking pavers have several advantages that appeal to a lot of property owners. Common benefits of our Weston interlocking pavers include:
Safety
Interlocking pavers provide a surface that is slip-resistant and skid-resistant. Even if the pavers are wet, it's safe to walk and drive on them. This makes them ideal for pool areas as well.
Durability
Interlocking pavers hold each other in place and have a higher psi (pounds per square inch) strength than poured concrete and asphalt, enabling them to withstand heavier loads and freeze-thaw climates. Their life expectancy is over 40 years.
Low Maintenance
Simple sweeping or rinsing is enough routine maintenance for your interlocking pavers. And if they ever get damaged, you can simply replace one or two affected pavers instead of redoing the entire concrete slab in your driveway or walkway, which can be costly and time-consuming.
Various Styling Options
Instead of the standard look of asphalt and concrete, interlocking pavers provide a sophisticated surface design. They come in a wide range of shapes, colors, sizes, styles, and laying patterns or concepts.
Different Hardscaping Applications
Interlocking pavers are versatile and can be used in different hardscape applications for both residential and commercial properties. They can be used for driveways, walkways, patios, pool decks, retaining walls, fire pits, and more.
If you want more information or would love to discuss how interlocking pavers can improve the look and value of your property, our paving experts will gladly answer all our queries. Give us a call to find out more!
Trusted Suppliers of Interlocking Pavers
To provide our clients with the most satisfactory service, we have established and maintained partnerships with the leading manufacturers of top-quality interlocking pavers. We make sure that you get pavers that are manufactured in state-of-the-art facilities and made using premium-quality materials.
Our paver experts will guide you in choosing the type that best suits your style preference and budget. Rest assured, your outdoor living space will be finished using functional, aesthetical, and long-lasting pavers.
We'll also ensure that not only will the quality meet your standards but that the price of the pavers fit your budget as well. Whether it's for a residential or commercial property, small or big project, we'll give you access to affordable pavers that don't compromise the overall look and durability of your hardscape.
Call South Florida Paving Company at (561) 320-0923 for your Free Consultation with a Weston Interlocking Pavers expert!
Certified Interlocking Paver Installers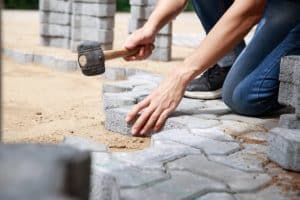 Aside from high-quality Weston interlocking pavers, you'll need expert installers for a hardscaping project that results in long-lasting, attractive surfaces. And the good news is, this is what South Florida Paving Company can confidently offer for both residential and commercial hardscaping projects!
All of our crew are certified installers of interlocking pavers with years of successful service for countless clients. Our work system follows a meticulous process where all the necessary steps—from getting the project permit to sealing your pavers—will be accurately conducted using high-quality equipment.
We can guarantee a flawless installation process that secures a solid base for a more durable pavement, addressing all the current issues in your site and preparing it to house long-lasting pavers. Our team uses technology to our advantage and always keeps up with the most efficient, current way of installing interlocking pavers.
Call South Florida Paving Company at (561) 320-0923 for your Free Consultation with a Weston Interlocking Pavers expert!
Full-Service Weston Interlocking Pavers Provider
Whether you are planning to renovate your home's backyard or looking to upgrade the outdoor space of your business, South Florida Paving Company can provide you with all kinds of Weston interlocking pavers for your dream area.
We will give you access to top-quality pavers and help you in customizing the entire concept of your hardscaping project. We'll help consider your ideas, building architecture, and landscaping needs into a more inclusive plan for your outdoor living space goals.
Included in the projects that we cater to are the following:
Patios

Driveways

Walkways

Firepits

Pool decks

Stone walls

Retaining walls

Stoops and steps

Veneers

Custom brickwork
If you want to know more, don't hesitate to give us a call. We have worked with all kinds of hardscaping projects, so we can guarantee an effective paving solution for any of your needs.
Let's Talk – Free Consultation

For an outdoor space that improves the curb appeal and increases the value of your property, South Florida Paving Company has a completely equipped and highly skilled team that you can work with. Our initial consultation is free of charge and will be dedicated to understanding your goals and presenting possible plans for a good hardscape.
If you want premium interlocking pavers, meticulous installation service, and aesthetically pleasing results that won't break your bank, our team has everything you need.
Call South Florida Paving Company at (561) 320-0923 for your Free Consultation with a Weston Interlocking Paver expert!