Deerfield Beach Pavers
Are you planning to remodel your property and make it more welcoming by adding pathways, pavements, and other outdoor features? If yes, you can contact our experts at South Florida Paving Company to help you in getting your Deerfield Beach pavers.
Pavers are often used outdoors to create pathways, driveways, pools, and other features to add to the property's overall look and value. These pavers are available in various materials, shapes, and sizes to match any residential and commercial property that needs them. Custom pavers are also available if you wish for the property to have a unique pavement that will help it stand out further.
South Florida Paving Company has a great team of Deerfield Beach paving installers and experts who can identify the best pavers for your property and plan the project accordingly to get it done fast and efficiently. We take pride in our personalized service because we want you to have the space of your dreams and increase the value of your space with the help of high-quality pavers installed by our experienced team.
Call South Florida Paving Company at (561) 320-0923 for your Free Consultation with a Deerfield Beach Pavers expert!
Factors to Consider in Picking Pavers
Pavers are made from a variety of materials that are made as a slab or block that can be put together to create a pathway or dock. It is considered the cheaper and more flexible alternative to concrete, which has been the conventional option for pavements and pathways both indoors and outdoors. It can also be used as a patio, pool deck, planters, and fire pits.
Whether you are renovating your property and giving it new paving, it is important that you pick the most suitable one for your budget and space. To help you pick the best one, you need to consider three key features:
Materials
There are many options to choose from when it comes to pavers, and each provides unique features that help it stand out. Down below are the 10 top materials used as paving.
Brick: Brick pavers are the oldest type of pavers available in the market. It is available in a huge selection of colors and shapes, with red being its most striking color. It is reusable and cleaned, making it the ideal choice of material to use to keep your paved surface uniform for a long time. It does require a strong base to help it stay sturdy for a long time.
Concrete: Concrete is also a popular type of paver option for driveways and roadways. It is very easy to install, cheap, and more durable than poured concrete. It is highly customizable to fit your needs from its color to size. But, it does crack under sudden changes in temperature and requires constant maintenance due to how it is sealed and made.
Bluestone: Bluestone is the best paver to use if you want something durable and flexible. As its name suggests, this material type has a blue tint which changes to gray the longer it is under the sun. Authentic bluestone does cost a lot and comes in counterfeit versions, which have lower durability qualities.
Flagstone: Many outdoor stylists use flagstone pavers to serve as flooring for patios. This material has a non-slip surface, making it the best option in any given weather. It is durable and comes with a natural finish that you can't replicate well with other pavers. Because of this fact, flagstones are very expensive because they are mined and hard to copy.
Marble: Marble is a flexible type of paver that works well for residential or commercial properties, whether as a driveway, walkway, or flooring. It is also the most preferred type of paver because it's durable and has a smooth finish that allows it to blend well in any environment. On the other hand, marble can be unsuitable pavers to serve as walkways because it conducts heat very well, making it extremely hard to walk on during hot days and afternoons. It is also prone to discolorations and scratches, affecting its overall look.
Travertine: Outdoor landscapers and renovators often use travertine pavers because they are the perfect alternative to marble. It is also durable, environment-friendly, and cheaper than natural stone pavers. It is also the paver that works well during hot seasons because it insulates heat well. This paver is quite heavy and requires special cleaning to prevent stains.
Porcelain: Porcelain is the ideal paver to use if you live in areas that do not experience harsh frost, which weakens the material in the long run. This material can be used for outdoor and indoor spaces and has a very polished look that allows it to shine at any given time. It also has fault lines that reduce the need to maintain this paver constantly, and the material itself absorbs only less moisture, reducing the possibility of mold and bacteria from affecting its integrity. Porcelain is also very cheap compared to slate, marbles, and other types of pavers.
Cobblestone: Cobblestone pavers are made from granite, sandstone, basalt, and limestone and can be considered one of the most traditional pavers used in any type of property. They are proven to be very tough and durable, reducing the need to maintain or clean it regularly and making it the paver of choice if you want it to last for a long time. Due to its popularity, cobblestone pavers are costly and may require special installation instructions to achieve the best effect.
Rubber: For areas where you need durable pavers that can prevent accidents, rubber pavers are the best option. They are shock-absorbent and durable, reducing the need to maintain them regularly. Unfortunately, rubber pavers are newly introduced to the market as a viable paver option, so it is not clear how long its lifestyle is once it is installed. The finish is also not very polished compared to other types of pavers, affecting its true color.
Plastic: Plastic pavers use either newly-made plastic or recycled plastic that is very flexible in terms of which area it can be used and its overall style. It can also help you contribute to the reduction of plastic wastes. However, it can be very expensive, and it's not as durable as stone, gravel, and asphalt pavers.
Paver Shapes and Features
Aside from considering the paver material, you have to consider the shape or design you want your pavers to appear once installed. To achieve a certain pattern once it is installed, pavers come in standard shapes like rectangles, squares, octagons, honeycomb, tile, and even custom designs. They can then be laid together either by interlocking each paver together or by laying them as slabs to create a flat surface for everyone to use.
During the free consultation visit to your property, our paver experts will show you the best paver shapes and installation styles to achieve your desired image. We can also reach out to our suppliers if you want a custom shape for your pavers, and our installation team can also install the pavers to create the image you want people to see as they see your space.
Colors
Pavers are available in various colors, from red, brown or tan, gray, purple, blue to multicolored ones. When you contact our team, we will look into your property's style and the location you plan to use these pavers to identify the best colors. We can also work with our suppliers to get custom-colored pavers if you want something truly unique for your space.
Call South Florida Paving Company at (561) 320-0923 for your Free Consultation with a Deerfield Beach Pavers expert!
Trusted Deerfield Beach Paver Installers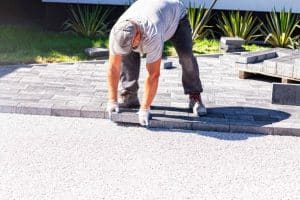 Every paver has its pros and cons and fits certain locations and styles. At South Florida Paving Company, you can get a comprehensive paving service that will help you in every aspect of the project, from helping you pick the right Deerfield Beach pavers for your project, getting the pavers installed in the quickest time possible to help you maintain their beauty for a long time.
We work with top-quality and trusted paver suppliers to accommodate all our clients' needs and make it a point to schedule a site visit to narrow down the paver options that we believe will suit your requirements and budget. We guarantee that the pavers we use will last a long time and are easy to maintain after our installation. It is our goal to assist you in achieving your dream outdoor space with the help of well-made pavers.
When you reach out to us at South Florida Paving Company, we will schedule a free consultation visit to your property to measure the area and do our initial assessment. After 48 hours, you will receive our recommendations, 3D plan, and service estimate that you can approve or negotiate. Once everything is approved, our paver installers will bring your pavers to the property and install them. They will prepare the area and, after installing the pavers, clean the area so you can immediately enjoy your new space once we are done.
You can also reach out to us for maintenance, repairs, and removal services for existing pavers. For these services, we offer them at affordable rates because we want you to continue enjoying your space without worrying about any expensive fees to maintain it.
Free Consultation Today

Picking the right paver to use for your property can be difficult because of the various options available and factors you have to consider. Fortunately, South Florida Paving Company has access to high-quality Deerfield Beach pavers that can suit any project and determine the best one for your needs and budget. Simply let us know what you are looking for through our free consultation service, and our team will guide you through the options and get started in producing the dream pavers that you want to be installed on your property.
Call South Florida Paving Company at (561) 320-0923 for your Free Consultation with a Deerfield Beach Pavers expert!