West Palm Beach Pool Deck Pavers
Whenever you see a pool, whether it is in a residential home, hotel, or pool park, do you notice how the pool blends with the pool deck surrounding it? Pool decks add to a pool's appeal and offer a place for people to relax as they take a quick break from swimming. Pool decks come in many forms, some opting for wooden or concrete decks, while others go for a more flexible option with pool deck pavers.
If you have a pool at home or in your commercial establishment, you can contact us at South Florida Paving Company to help you give your pool the deck that will make it more striking and functional. We can install pool deck pavers that will not only match your pool's personality but also keep users safe as they have anti-slip and heat-resistant properties.
When you reach out to our West Palm Beach pool deck pavers team, we will guide you through our services and provide you with an affordable quote for your request. We can do pool deck paving projects for residential and commercial properties. We are also open to custom pool deck paving requests. You won't be disappointed with our attention to detail and efficiency, making us the best partner for your paving needs whenever you need it.
Call South Florida Paving Company at (561) 320-0923 for your Free Consultation with a West Palm Beach Pool Deck Pavers expert!
Pool Decks, Pool Pavers & Pool Coping
The pool deck is the immediate area that surrounds your pool. Sometimes, they are small in size, just enough for people to walk around the pool, while others are expansive to cover more than just the pool and serve as a place to sunbathe and relax. It is often made with safe slip-resistant surfaces which are durable to withstand constant exposure to moisture and chemicals from the pool.
Although wood and stone decks are common, pool deck pavers are ideal because of their unique features. They come in various shapes and colors and are made from high-quality materials that will suit your pool and your outdoor space. Our West Palm Beach pool deck pavers are always ready to help you explore the options and design your dream pool deck. Once we have your design and your chosen paver, we will get to work to install them in a short period.
Pool Deck Paver Options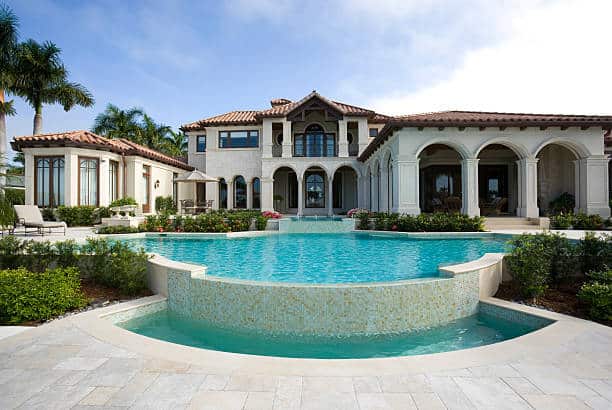 If you want to achieve a beautiful poolscape, you need to pay close attention to the area surrounding the pool itself. The pool deck identifies your pool's personality and the style you are portraying. There are quite a lot of pool deck paver options available for you to choose from, whether it is natural or manmade materials.
Down below is a short list of pool deck paver options you can consider, as well as their benefits:
Clay pavers – this option is very flexible as they come in various designs. They offer a warm look once installed and are very easy to maintain and replace. They are also quite durable and don't have any additive colors, which can be dangerous if they are chemical coloring.
Concrete pavers – They are very versatile to use and come in various colors, styles, and designs. Like clay pavers, they are easy to install and maintain, as well as very affordable. It is also the ideal pool deck paver to use if you live in areas with extreme winter seasons.
Sandstone pavers – When installed, sandstone pavers are very pretty, easy to install, durable, and very affordable.
Limestone pavers – If you want to keep the pool area safe for everyone, limestone pavers are recommended. They are resistant to bacteria and molds and very durable. They are also very easy to clean and maintain.
Travertine pavers – This paver option is suitable for pool owners who want a special pool deck and still have all the safety features needed to keep everyone safe. It is also freeze-thaw resistant, as well as discoloration resistant.
Granite pavers – If you want a natural stone for your deck, granite is a popular option. It is very durable and safe to use, as well as maintain. It is also a non-combustible stone, making it heat-resistant and fireproof.
Call South Florida Paving Company at (561) 320-0923 for your Free Consultation with a West Palm Beach Pool Deck Pavers expert!
Why Consider a Professional Pool Deck Paving Company
Considering the options available for pool deck pavers, it is important to get a professional paving company to install them for you. Each option also requires a different installation method in order to let their appearance and benefits shine.
Having a professional pool deck paving company to handle your pool deck paving project will make things stress-free. Installation of pool deck pavers can be very tricky to do as you need to excavate an area to compact the ground before the pavers can be installed. There must also be a sun-base installed after the excavation, as well as edge restraints, sand base, and coping stones before pavers can be installed. At South Florida Paving Company, you don't have to worry about it because we can prepare the area for the paving project and get it done with our team or our subcontractors.
Call South Florida Paving Company at (561) 320-0923 for your Free Consultation with a West Palm Beach Pool Deck Pavers expert!
Full-Service Pool Deck Paving Company
South Florida Paving Company is a great partner in getting your pool deck paved to the specifications you want and getting the pool area of your dreams.
We specialize in landscape and hardscape projects, especially paving, using various materials in all specifications. Whether your pool is a private one or a public facility, our West Palm Beach pool deck pavers are always ready to assist and deliver the project to you within your projected schedule. If our team is not enough for the project, we will work with our trusted subcontractors to complete the project efficiently. We also use only the best pool deck pavers for each project we handle so they can match the client's specifications and, at the same time, last for a long time.
To start the process of availing yourself of our services, you can contact our team through our free consultation service. One of our paving installers will be with you to answer all your questions and create the paving plan for your project. We will also guide you through all the options available for the paver materials we can use, as well as the patterns you want to see as we install your pavers around your pool area. You can also trust us to maintain and repair them for you, with each project getting a one-year warranty from our company.
We also do other paving services for residential and commercial clients, such as landscape paving, interlocking paving, and others. Simply let us know what you are looking for, and we'll be with you to make your ideas a reality.
Free Consultation Today

Pool areas are meant to be enjoyed safely by all those who use them. With high-quality pool deck pavers installed by South Florida Paving Company, you don't have to worry about anything. We will make sure that your pool deck is safe to use even if it gets wet, and its design complements your entire home.
We are always up for the challenge of giving you the pool deck of your dreams, so call us today to find out more!
Call South Florida Paving Company at (561) 320-0923 for your Free Consultation with a West Palm Beach Pool Deck Paving expert!