West Palm Beach Landscape Pavers
Landscape paving undeniably improves the appearance of your outdoor space. It lets you build a welcoming and lasting impression of your residential or commercial landscape. And to achieve creative landscaping, you need a professional touch that can finish the job well, leaving no worries for you.
South Florida Paving Company manufactures artistic West Palm Beach landscape pavers that will give a more peaceful, refined, appealing space to your home or commercial garden. Our in-house landscape designers and paver installers are capable of completing all of the paving work in collaboration with our trusted subcontractors. From acquiring authorizations and creating layouts to removal, installation, and clearing up, we accomplish every step of the process within your timeline and budget.
We provide an exceptional balance between quality, service, and value. Our landscape paver installers have already completed countless projects and have been adequately trained in all the latest installation techniques.
Whether you're planning a completely new design for your backyard or you just want to give your garden a makeover, you'll get long-lasting and attractive hardscaping results from our team.
Call South Florida Paving Company at (561) 320-0923 for your Free Consultation with a West Palm Beach Landscape Pavers expert!
Smart Landscape Pavers Solutions
We usually start with solving problems related to your project site. Some struggles that your landscape paving may face at the beginning are sloping terrain, limited lots, fewer resources, and poor water drainage. These may influence your yard's design, layout, and type of material to be used.
With the help of our West Palm Beach landscape paver experts, your landscape goals and design issues will receive quick, innovative solutions. We will present landscaping ideas and installation techniques that will address all issues without necessarily breaking your budget.
Rest assured, we can properly prepare your site and make the landscape paver installation process as convenient as possible. More importantly, we'll ensure that your pavers will be durable to withstand pressure, traffic, and harsh weather conditions.
Wide Range of Landscape Pavers Designs
A well-designed landscape can be your daily source of inspiration. It has the ability to provide calmness, admiration, and harmony, which can improve your mood and provide you with comfort. Durable, functional, and beautiful landscape pavers can also enhance the curb appeal of your home and encourage others in your village to transform their yards into scenic beauty.
The following are some of the most popular design ideas for our West Palm Beach landscape pavers:
Japanese style

Modern landscape

Tuscan style

Country

English style

Xeriscape

Tropical

Desert

French style

Southwest

Mediterranean style

Colonial

Cape Cod

Coastal

Spanish style

Traditional landscape
If you already have a design in mind, you can discuss it with our designers, and we'll immediately create an appropriate plan to achieve it. You can be as hands-on as you want as we go through the process, giving us ideas on what you want so that at the end of the process, your landscape pavers will look exactly the way you want them to.
Call South Florida Paving Company at (561) 320-0923 for your Free Consultation with a West Palm Beach Landscape Pavers expert!
Trusted West Palm Beach Landscape Pavers Company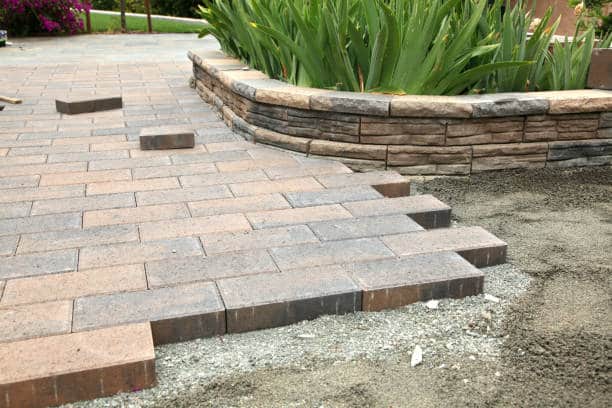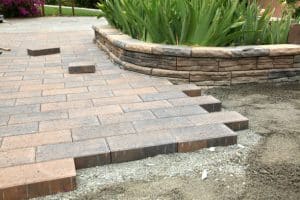 Our services, whether for residential or commercial properties, are well-praised. We are serious when it comes to business, and we guarantee to give you the most satisfactory customer experience possible.
South Florida Paving Company is committed to giving you access to competitive prices for landscape design, installation, and renovation. Our past clients can testify to the great character and professionalism our crew provides. Aside from using top-quality pavers from reliable suppliers, we will have the job done in a timely fashion, at a great price, and with attractive finished products.
The design process can take a few days based on the type of design you want and the size of your property. When we have completed the initial design, we will display the mock-ups for your approval and incorporate any comments that you may have. After that, we'll work on any changes that are needed and then deliver the revised design for your final approval. This takes into account the yard's budget, style, and ultimate appeal.
When you've already approved the design, we'll get started on turning your yard into a relaxing, entertaining place. From getting the permit to the final finishing touches, our team will handle all the necessary steps to build your dream space one paver at a time!
Let's Talk – Free Consultation

Our landscape paving process begins with an initial consultation where your ideas, needs, and budget are to be considered. If you have any colors, patterns, or a specific concept in mind, we will take note of it and then build our design around your expectations.
Feel free to call us for a free consultation and see how our expertise can help you get your eye-catching and functional landscape. We will be happy to learn about your needs and begin customizing your picture-perfect West Palm Beach landscape pavers.
Call South Florida Paving Company at (561) 320-0923 for your Free Consultation with a West Palm Beach Landscape Pavers expert!